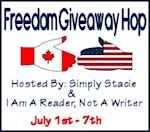 Here are my giveaways!!!!
There are 3 selections!!!
Alice Bliss
by Laura Harrington
plus some other goodies!!!
SPYDER
by David Fingerman
plus other goodies!!!
Unraveled
by Maggie Sefton
plus other goodies!!!
This contest is for U.S. RESIDENTS only.
Fill out the form below to enter.
Fill out a separate form
for each book you would like to win!
Followers will receive 5 extra entries for each entry.
Contest runs from July 1 - 7.
Winners will be chosen using Random.org and
will be announced on July 8.
Winners will also be notified via email.
Take some time to check out the
oth
er giveaways in the left sidebar too!!!!